I'm going to weigh 400 pounds by then end of
our snow storm
. Woke up to this delightful breakfast made by my husband,
Mr. White Moustache
. YUM.
He found the recipe for the Churros
here
. And for the hot cocoa my daughter selected a packet of
Blanxart Spanish Hot Chocolate
and mixed it with a bottle of whole milk from
Twinbrook Creamery
.
Churros Recipe: serves 6
"Churros" are simple fritters that look something like a big "French fry," but taste nothing like one. They are the Spanish equivalent of doughnuts. Instead of a ring shape, like a doughnut, churros are long straight or slightly curled lengths that usually have ridges. Eaten while warm and sprinkled with sugar or drizzled with honey. They are quick and easy to make.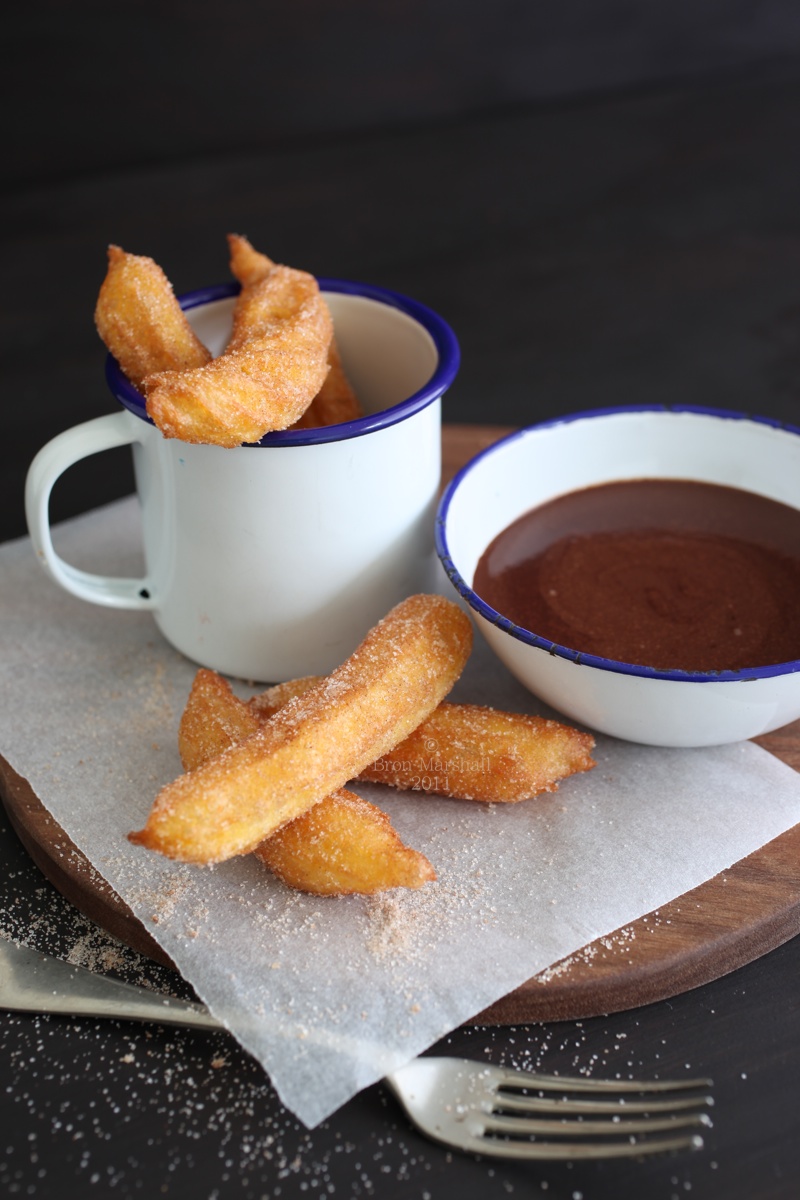 Prep Time: 10 minutes
Cook Time: 10 minutes
Total Time: 20 minutes
Ingredients:
1 cup white flour
1/4 tsp baking powder
1 cup water
1 Tbsp vegetable oil
1/8 tsp salt
1 tsp granulated sugar
oil for frying
several Tbsp granulated sugar to sprinkle or honey
Preparation:
This churros recipe makes 2-3 servings for breakfast, about 3 large churros each serving. In the case additional servings are needed, prepare in batches so churros are warm when served.
Pour vegetable oil, such as canola or corn oil into a large heavy bottomed frying pan. Make sure there is about 2 inches of oil in the pan to cover the churros. There should be enough oil so that they float freely while frying. Set pan aside.
In a medium sauce pan, pour 1 cup water. Add oil, salt, sugar and stir. Bring water to a boil.
While waiting for water to boil, dry the cup used to measure the water and use it to measure flour, since it is necessary to have equal parts flour and water. Pour flour into a medium-sized mixing bowl and add baking powder and stir.
Once water boils, remove saucepan and begin heating oil in frying pan.
Slowly pour boiling water from saucepan into flour mixture - stirring constantly with a fork until it is a smooth dough without lumps.
Note: Dough should not be runny like a batter, but rather a sticky smooth dough.
Immediately spoon dough into a churrera (a large cookie press) or pastry bag.
Carefully squeeze dough into hot oil (350-375F degrees) and fry until golden brown. Remove with a slotted spatula or long-handled fork. Place on a paper towel to drain.
Once drained, cut into manageable lengths. Sprinkle with cinnamon and sugar or drizzle with honey and serve.
photo credit
Pin It