My daughter and I made these last night - I forgot how good they are. Mmmmm. And. So. Easy. These cookies are a drop cookie and contain NO flour. So if you're on a gluten-free diet these might work for you.
Ingredients:
1 1/2 cup Peanut butter (either creamy or chunky work well. Choose chunky if you like a little extra crunch in your cookie)
3/4 cup sugar
1/2 cup brown sugar
1 stick butter
3 eggs
2 teaspoons of vanilla
2 teaspoons of baking soda
4 cups oats (regular or thick cut are best. Don't use instant oatmeal)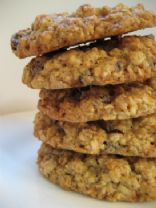 1 1/2 cup chocolate chips (I like to mix semi-sweet and bittersweet chips together)
Cream together the first 6 ingredients in the bowl of a stand mixer (or by hand). Blend in three eggs until well combined. Mix in the oats. Then mix in the chocolate chips.
Drop dough in rounded tablespoons (2-3 tablespoons) 1 inch apart on an ungreased cookie sheet. Bake at 350 (or 325 if using a convection oven) for 10 minutes. Take cookies out and bang on counter then bake for 2-3 minutes longer. The cooking time will depend on the size of your cookies. Cooking longer will give you a dryer cookie. We like them just undercooked.
Must eat warm with a glass of milk.

(photo credit: sparkpeople.com)