Welcome to my blog!
Nice to meet you!
Please leave a comment so I can check out your blog too!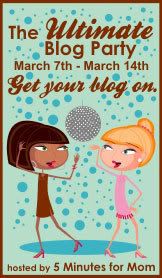 Here is a bit
about me here
and here's
a great recipe
(because what's a party without food?) and some photos:
There is a ton of cool stuff being given away, but what I'd like the most is:
~~12X12 personalized wall canvas from
Ju Ju Beane Boutique
(
note to prize "choosers"
I need to win this...I'm cuckoo for birds...
it will go with this
.)
~~$25 Amazon gift card from
Judy
~~$25 Target gift card from
Mommy Bytes