I love winning things...and I thought you might too! Click on the
Blog Party icon
in my sidebar below and check out the 5 Minutes for mom website and see what it's all about.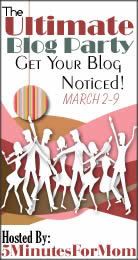 It will be a week long bash starting March 2, 2007 and ending with the big prize giveaway on March 9, 2007.
All party guests who sign the Mr. Linky by 12pm Eastern on March 8, 2007 and who invited guests (invited friends via a post and have an Invitation Button on their blog) are eligible for our random draw prizes. Prizes will be announced at 5 Minutes for Mom at 7pm Eastern on March 9, 2007.
I'll be posting a recipe on Wednesday March, 7th, so come by and we'll recipe swap!